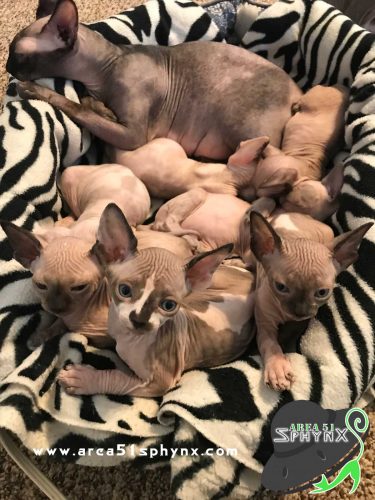 We only have a few litters each year and usually kittens are reserved before they are born. We accept these reservations contracts on a "first in priority" so the first person to place the reservation gets the pick from the next litter and so on. Your reservation may specify a sex, color, and even specific markings.
When our litter comes you will be contacted and given pictures and descriptions and the opportunity to choose, in the order we receive the reservations. If you choose to pass your priority moves to the next litter.
Kittens are $2000 and are sold as pets (meaning they will already be spayed/neutered before they leave here) Our kittens will also have Vet Checks, be Micro-chipped, and have Immunizations as appropriate for their age per our vet's recommendation. They are cleared to leave at a safe period after their spay/neuter surgery only and this is usually at 12 weeks but the date will be arranged in advance with new family.
Our required deposit is $200 (applies to the total) then the balance is due upon pickup.
We have people travel from all over to adopt our kittens. If you are unable to come to our home we do offer other face to face transfer options. Please visit our Shipping & Delivery Page for more information.
Adding a baby Sphynx to your family is done in 2 steps;
Complete our online Interview/Application (CLICK HERE)
Upon approval you will need to use our online contract (CLICK HERE). which also gives you the opportunity to send your deposit.
You don't have to use our online process but that is the way to get on the list fastest. After approval you may also just print our contract and send the deposit using any method on our Payment/Deposit's page.
Printable Contract – (Click Here)

We will stay in contact with you, arrange for your choice when it's your turn, and pickup arrangements. (We only do face to face transfer)
Because our babies are almost always reserved before they are born we always recommend you get a deposit in ASAP because this is a priority based program where on a first come first serve you may get pick of our upcoming litters. You may specify gender and even markings (regardless your specified choice we will still contact you each time you come up with the available kittens) or you may wish to leave blank and as these are received they are entered into a queue. As we have litters you may choose from all available kittens.
Our Payments & Fees page should address any questions you have but feel free to email or message with any questions not answered.
Our facebook page https://www.facebook.com/Area51Sphynx/ is the best way to get a quick response.
You can fax it to us at 325.200.4955 or email to us at reserve@area51exotic.com
Available Kittens
We use a reservation list. The way to get on our list is to first use our online application by clicking here.

If you haven't already please visit our Facebook page. It has updates on litters and current photos. http://www.facebook.com/area51sphynx

Please read about our "Kitten Reservation Program" We always use a reservation list and thus our litters are completely sold prior to being born so please consider using our program if you're serious about a kitten.
Please Understand that we accept reservations on a FIRST DEPOSIT/CONTRACT RECEIVED BASIS – Oral intentions do not get you on our list.
Additionally, while you may make payments toward your kitten, for your convenience, there is no additional payment required until you pickup your baby EXCEPT in cases of us meeting you at an airport in which case the kitten must be 50% paid before we meet you there and in cases where we fly to you the full payment in addition to the airfare must be fully paid in advance.
Here's a few of our Reserved or adopted kittens